Intoduction:
The BMW N55 is a turbocharged direct injection straight-6 DOHC car engine that began production in 2009. It was launched in the F07 535i Gran Turismo. The N55 won three straight Ward's 10 Best Engines awards in 2011-2013. It began to be phased out following the introduction of the B58 engine in 2015.
Compared with its N54 predecessor, the N55 features a single twin-scroll turbo (the N54 uses twin turbos) and Valvetronic.
The F80 M3 and F82 M4 are powered by the S55 engine, which is the high performance version of the N55.
The most common vehicles the N55 was fitted in:
2012-2015 F20 M135
2012-2013 E82/E88 135is
2010-2013 E82/E88 135i
2015-2016 F20 M135i LCI
2013-2016 F22/F23 M235i
2016–present (2016) F87 M2
2010-2013 E90/E91/E92/E92N/E93 335i
2012–2015 BMW F30 335i
2010–2011 F10 535i
2010-2013 E70 X5 xDrive 35i
2013–2015 E84 X1 xDrive35i
2010–2020 F25 X3 xDrive35i
2009-2017 535i GT
2010-2013 E70 X5 xDrive 35i
2011–2014 E71 X6 xDrive 35i
2011–2015 F12 640
2015–2022 F26 X4 M40i
2013-2015 F30 ActiveHybrid 3
While its N54 predecessor uses parallel twin-turbochargers, the N55 uses a single twin scroll turbocharger. Another difference is that the N55 has variable valve lift (called Valvetronic by BMW). Displacement and peak power output are the same as the N54, however fuel economy is improved 15%, emissions have been reduced, less turbo lag and better low-rev torque.

As per the N54, the bore is 84 mm (3.3 in), the stroke is 89.6 mm (3.5 in) and the capacity is 2,979 cc (181.8 cu in). The compression ratio is 10.2:1. The N54's gasoline direct injection system uses piezo injectors, also used in the naturally-aspirated N53 (mostly European markets only), the N55's direct injection uses Bosch solenoid-type injectors. The piezo injectors were more expensive and BMW decided they were not worthwhile in North America, in contrast to Europe, where they could perform lean burn to reach their full potential.

The exhaust manifold design, called Cylinder-bank Comprehensive Manifold (CCM) by BMW, aims to reduce the pressure fluctuations to reduce throttle lag and exhaust back-pressure.

The engine includes BOSCH MEVD 17.2 engine management, and supports ROZ(RON) 91-98 octane fuel types (recommended RON 95), Valvetronic III (variable valve lift control) with double VANOS, direct injection and turbocharging. Turbocharging uses 2 sets of exhaust duct to turn 1 turbine wheel, with cylinders 1-3 and 4-6 combined to form 2 exhaust channels.

The N55 is mated to ZF's 8-speed automatic transmission in later applications such as the 2011 535i and 2013 BMW 740i, retaining the previous ZF 6-speed automatic transmission in earlier models. A 6-speed manual is usually available for sedans (excluding the 7 Series, and dropped for the 5 and 6 series for 2015), but not crossovers such as the X1, X3, X5 and X6, and is of limited availability within the United States. The N55 engines in the 2011 BMW 135i and 2013 BMW 135is are mated to a Getrag 7-speed Dual-clutch transmission or a 6-speed manual transmission.
COMMON BMW N55 ENGINE PROBLEMS LIST :
Boost and Charge pipe braking or detaching from throttle or inter-cooler.
Valve Cover Oil Leak
Water Pump Failure
Leaking Oil Filter Housing Gasket
VANOS Solenoid Failure
High Pressure Fuel Pump Failure (HPFP) – Mostly comes up on older models
Fueling system insufficiency (Can not hold more than +- 500hp) but you can compensate with Water Meth Injection up to one level
---
THE BOOST PIPES ISSUE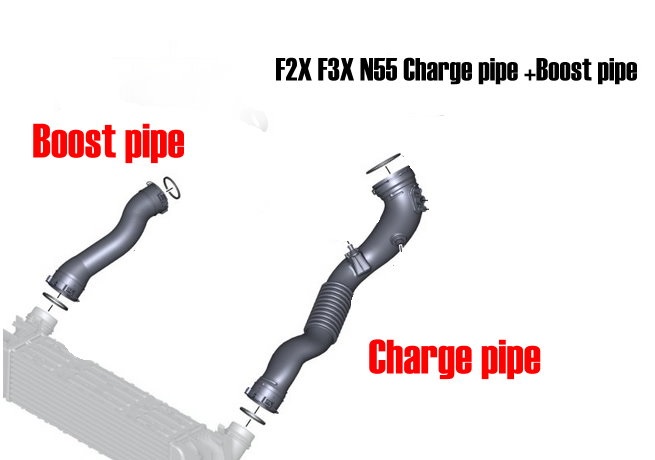 A lot of owners and tuners have reported problems with both of those pipes especially after a tune on the n55 platform. The pipe on the left side (charge pipe) is attached to the throttle with a small metal safety clamp which can not hold higher boost pressures(usually brakes up after 1.1 bar) and in some cases not even stock boost when the car gets too warm inside a race track or after hard use on the street.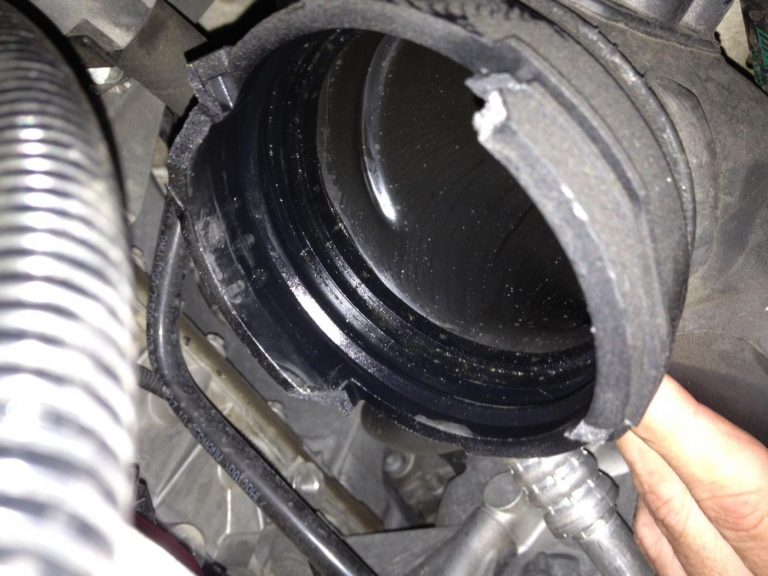 Exactly the same thing can happen to the boost pipe which is connected directly to the intercooler and in that case you need to replace everything plus the o-ring seals inside it. We would suggest those upgrades to be done prior ecu tuning or directly after the car is purchased. Aluminum connection pipes should be used which are sold by a lot of companies as an upgrade for the N55 engine.
---
N55 VALVE COVER AND GASKET LEAK SYMPTOMS
Low engine oil light
Burning oil smells, or smoke coming from valve cover area
Oil on spark plug threads
The same exact valve cover leaks were also appearing on high mileage older N54 engines. In addition directly on the valve cover is the Positive Crankcase Ventilation Valve (PCV valve). Rough idle is one of the symptoms that will be caused by a broken pcv valve.
A PCV valve is basically a diaphragm that with the help of engine vacuum pulls out blow-by gases that are generated inside the crankcase. Usually PCV fails due to high mileage and/or high engine temperature and pressure.Consider replacing the complete valve cover and gasket since it is easier and will solve both issues at once.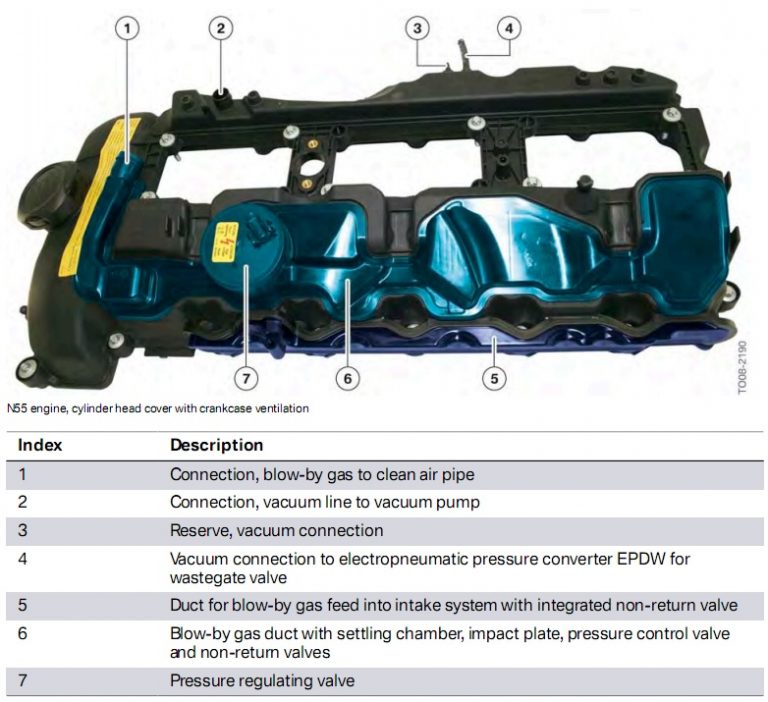 ---
N55 WATER PUMP FAILURE
Engine overheating
Cooling Fan running full speed(constantly)
Coolant boiling
CEL DTC : 2E81, 2E82, 2E83, 2E84, 2E85, 377A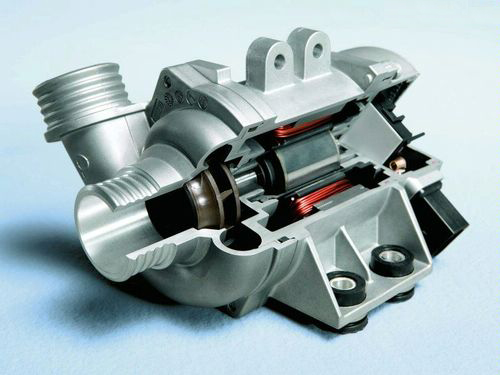 The common water pump problems are a usually found on most bmw engines and not only.Water pumps are re-circulating coolant to cool down your engine temperature. Bmw is using electric water pumps on n54 and n55 engines and those pumps have a short lifespan(+- 50.000km). Once you decide to replace the water pump consider replacing the coolant thermostat as this is also a weak link on those engines and it would be easier to change both at once.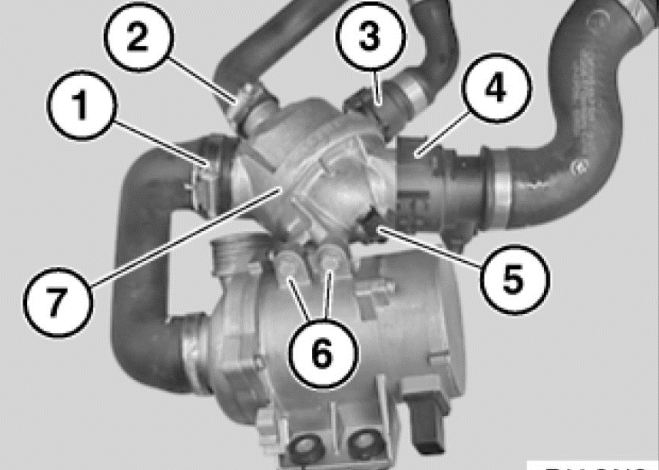 BMW water pumps can let you down without any prior notification. A good way to diagnose the pump is to check the flow using some special tools and the factory inpa/icom diagnostic interface. If the failure is electrical you might also get a dtc registered to your engine management system.